Kate Carter, How Did You Get To Find Rancho Cortez?
Kate Carter was taking a semester off from school. She attends the University of Texas at Austin. She was in a depression and funk when she asked for help. It was her Grandmother that found Rancho Cortex to get back into shape. Kate guessed that she gained 50 pounds in a year after being a High School athlete. Her desire was to stay at a dude ranch due to her love horses and everything Cowboy. 
The search led her to ranches all over America. From a dude ranch in Wyoming. To a program that she referred to as a, 'fitness thing' in California. It was her grandmother that pointed to Rancho Cortez. She found the ranch and thought that in Texas, Kate could get at two birds with one stone.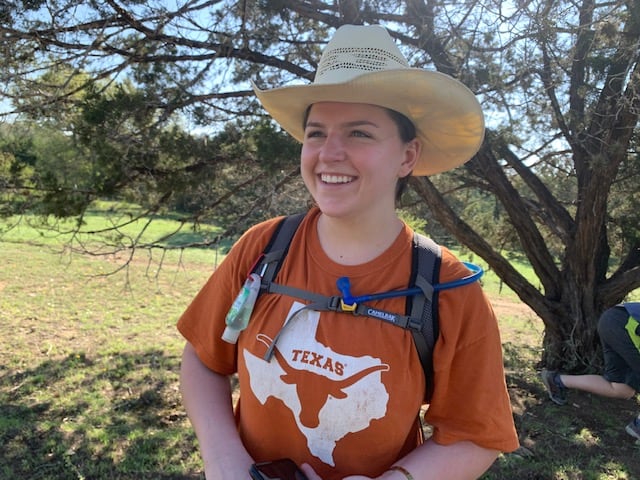 Training As A High School Athlete
Kate Carter spent her entire academic career playing the games of soccer, lacrosse, field hockey, and volleyball. Both in middle school but then again when she reached high school. She played club lacrosse competitively in year-round clubs. Lacrosse in gaining in popularity in America. She has played with teams in Georgia and Pennsylvania.
Kate Carter says that in her freshman year in Houston, she dislocated her kneecap. Osteochondritis dissecans is the term for an injury like this that tears the patella and meniscus. Bone fragments chipped off from the femur and the cartilage knee. So, in her Freshman year in high school she had to do the entire knee reconstruction on her right side.
Now, six years on, she is at Rancho Cortez to take on the fitness program. At 19, the injury still bothers her a great deal. Playing any sport and going up and down stairs. She will say, "Oh, gosh. My knee".
Little Kate had been attending Camp Longhorn for 13 years. It's in Burnet, Texas. One of the favorite places of her life. There is a talent competition there called "Hoss". This is an event where Campers ride horses and this sparked her love of horses.
A Transition While At Rancho Cortez
"I got here March 12th." Says Kate. "I was also in my room for the whole first week. There was no desire to get out of bed because that's what I was doing at home before this. Staying in bed and just eat all day long."
After a rough transition period, she was ready to keep up with the activity and the change of pace. In terms of fitness she can now get out of bed now without a fight. She will wake up at 7:30 on her own. After two months, she can't lay in bed. This was more than she could have asked for. She has been given the perspective she was looking for on life itself.
Kate grew up in a wealthy environment. Coming to a place with no pretentiousness and no class system at all has been a shift from her everyday. At Rancho Cortez, no one gives a shit about anything aside from getting her ass to work. She says, "You can literally do whatever you want, wear whatever you want, say whatever you want and everyone's just like, whatever." This freedom is different than the society or the social life where she comes from. But with it is responsibility to get to the classes and eat the right things and clean up after yourself.
We all hope that Kate will keep up with the healthy eating regime that we have grown used to at Rancho Cortez. Without a
Trevor
  in the kitchen to serve a disciplined and healthy meal than it could returned to what it was before. The quarantine will either be a asset in eating well or lead to a lot of unhealthy food delivery.When you don't have choices of where to go or what to do is really a nice thing when a healthy diet is on the mind.