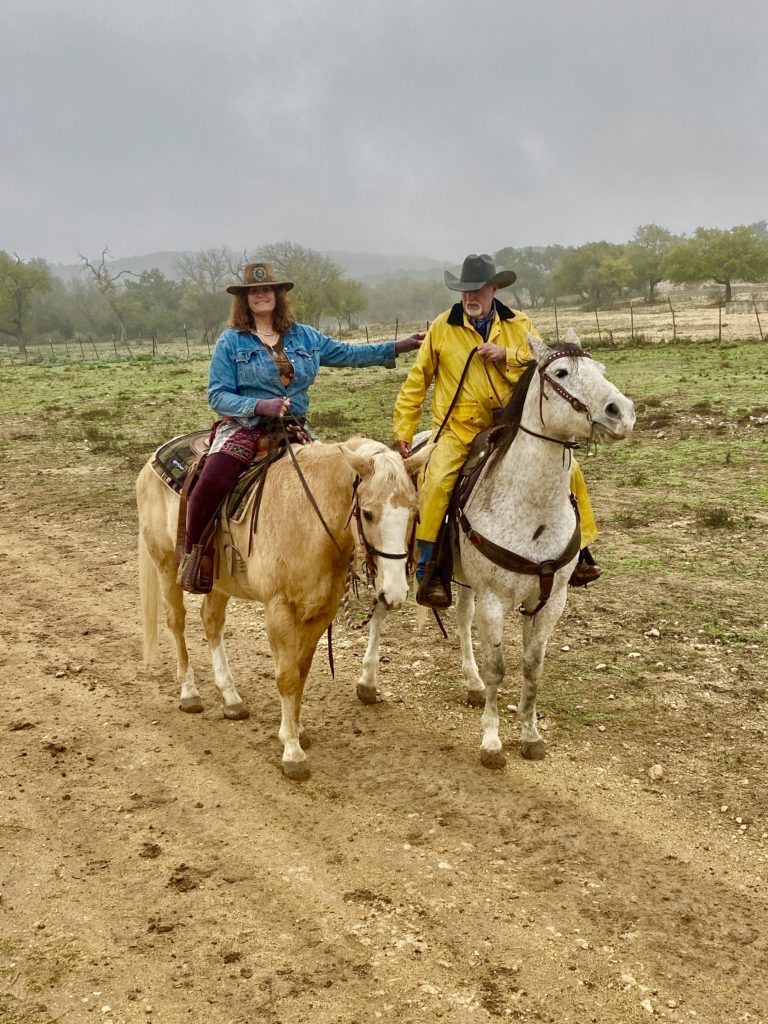 I was actually looking to go somewhere warmer in the winter and I was searching properties in Florida; Airbnbs because my vision was to walk on the beach to lose weight by myself. And somehow Rancho Cortez popped up on my screen. And I was looking at the price and the dates and I said, "This is exactly a great idea." Texas!
The ranch has been wonderful. I wake up and I hike before breakfast, and we get a really great breakfast. And then we have a morning scheduled hike with an instructor or a leader, whatever the word is. And then we usually have strength training or some cardio and then lunch, and then another class, maybe yoga. And then we have water aerobics. Then I go for another hike, and after that is dinner. It's a busy day. And there's a little time, about an hour, in between each class, to relax. It's nice.
I enjoy the hiking the most, and then horseback riding. And I love strength training.
Besides horseback riding, the wranglers also show you how to lasso. Lassoing was pretty fun. They taught it so easy and I have a video of myself doing that. I was pretty impressed with myself. Then there's feeding the cows, and…oh, in the morning, I helped the wrangler feed the horses. At night Larry, the owner, invited us to join the campfire. He is actually very good at telling stories of cowboys and the history of Texas, like a professional. It's good. It's good. How do you call it professional? Like somebody who is a theater. A reenactor. Reenactor. Yeah. A cowboy storyteller.
Sometimes I've been able to forget about COVID. Everything is socially distanced; most of the activities are outside. Except for the gym, and there's room to separate in there. And the rooms, they have enough bedding and towels, and there are some cleaners under the sink, and extra toilet paper. So, nobody even goes in your room during COVID. In the dining hall you have to have a mask, but once you're seated, you can take it off. And you can even eat outside…at the picnic tables, or on the enclosed porch.
The food's good. It's very nice. And Cheryl, the manager/cook, is very welcoming. Makes you feel kind of like mom or your sister, you know, while she is preparing the food. She's actually, she makes you feel at home and welcome. The food is very good. I would say that if you have certain food desires, they'll make it for you. And it's good. They have whole foods. What I like about it is that its food that you would eat at home, okay? You know, it isn't too specially prepared so that you wouldn't know how to make it at home and go home and not be able to keep it going.
At first, I was like a little bit like, "Oh, this is food, you know, that I don't consider diet." But then when I realized when I plugged it all into my calorie counter, what is that app called that you put in your food? It was well under the recommended. I mean, it was enough to lose weight, but it was still good, I wasn't starving. And as a matter of fact, I've never felt hungry per se. Well, take that back. I retrained my body to want to eat at 8, 12, and 6, which was something I didn't do prior. Prior I either snacked or starved myself until dinner and would go like "arghhh".
There were only a few rare occasions where I actually felt hungry. But they had snacks. And they were good snacks. They were fresh almonds, and homemade bars and fruit. But I found that the routine, there was routine and everything, which helps. And I think the food makes it easy that when I go back I won't fear "regular" food, you know.
The main thing I'm bringing home is a jumpstart. I'll definitely bring that home. I've sabotaged my life during COVID like everyone else, well, like some people. I enjoyed not having to go to the gym, or leave my house. It was actually like a little mini vacation. So, I'm going to bring home with me just a jumpstarting and getting back into habits. Because we all say, "Oh, I'll do that next week. I'll do it next week." Well, it's the best thing to just come and jumpstart. To me, it's a jumpstarting retreat.
And we did get off the ranch sometimes. There was this little town…it's darling. It's called Bandera. And it's a cowboy town, and it's very well-known actually as the Cowboy Capital of the World or of Texas, I don't know. And a very cool place. And they also took us off the ranch for certain activities. Like, we hiked at one of the most beautiful parks, Lost Maples. And a few times we just did our activities off-premises, and that was nice. That was really nice because it broke it up a little bit by the second week, you know? And it went by so fast. So fast.
I lost at least 14 pounds, but keep in mind, I weighed myself with my clothes on so it might not be completely accurate. But I feel I lost it. I lost 2 inches, I think, around my stomach, which is a lot. I had great success. The reason being is because I ate a lot. I had gotten to the point where I was eating candy and just being belligerent with myself, and I got back on track. Got back on the healthy track at this retreat.
Everyone is very welcoming and makes you feel like family. Like there's nobody, everyone goes out of their way to be friendly and makes you feel like you're part of a family. Yeah. And it's a dude ranch. That was so cool. And we did a lot…I loved the riding portion. They had nice horses and Larry even gave us a free lesson once and it was good. It was good.
I would highly recommend Rancho Cortez. I think it's well-priced. I think it's very well-priced. When you think of it, you're getting food, good, healthy, fresh food, and lodging in Bandera, Texas. And next week is Mardi Gras. So, just having a place to stay, I mean, that would be a great two weeks to come. Because just having a place to stay and going to that. And I think that if you add in food, lodging, and a personal trainer essentially, and horseback riding, it's a very good deal. The trainers are all certified, and they're all different personalities. So, if one doesn't suit you, then the next day there's going to be, I think there were three trainers, maybe four, I don't know, three I think. And very inspiring and of all ages. So, that was good too. So, there were just different ages. So, you didn't have all 20-some trainers, you know, and that was good. I like that. And they were all very fit and very inspiring because of that. And yeah, I thought it was very good. And I'll be back.